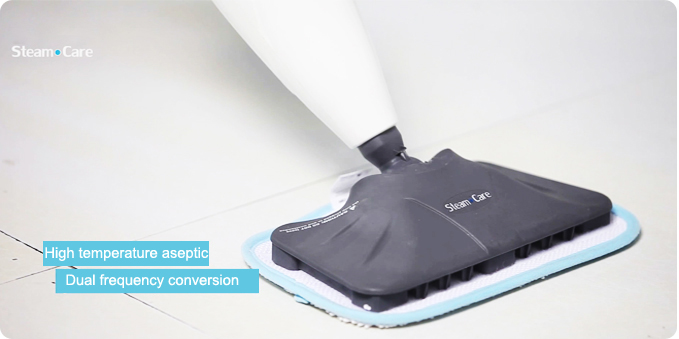 Steam•Care
is the brand name for a floor cleaning and care product with dry steam technology, it is the first independent China brand for this kind of product owned by
Hua Xin Bao Industrial (Shenzhen) Co, Ltd
, a subsidiary company producing and manufacturing for the Hong Kong company,
Sunshine Homecare Products Limited
.
  Sunshine Homecare Products Limited
is an affiliate of Hong Kong's
Wellgain Group Ltd
, a high tech enterprise incorporating production, research & development, and sales & marketing. With many years of expertise and managing experiences in areas such as precision molding designs, injection molding and lean production, Sunshine can further use the advantages it has in technological, funding areas, as well as market operations innovations to handle industry chain integration and innovations; to persist in technologies innovations, product innovations and management innovations; to contend and be the leader in key high tech technologies, providing high quality technological products; to promote living qualities for mainland consumers, and be the household steam cleaning healthcare product expert in China or even the world.
  Hua Xin Bao Industrial (Shenzhen) Co, Ltd
as one of the first household dry steam cleaning healthcare product suppliers, always keep "leading techologies" and "customers first" as key management policies. Hua Xin Bao also insist on keeping "technological innovations" and "importance of quality" as the main theme to run an enterprise. It already successfully developed household cleaning care product range Steam Care with multiple key national patents, its core technologies and functions innovations is close to or even exceed world product in the same industry.
  Steam•Care
products received high recognitions from co-operating clients like Yamada, Sharp and Panasonic of Japan, Spectrum of USA, Oreck of Britian, as well as major gifts channels and group buying channels in China. This set up good foundations for product development.
  Steam•Care
, starts up the dry steam cleaning age for household cleaning care product, only for the reason to provide high quality healthy living for you. With its unique "high temperature bacteria removal" dry steam technology combine with duo core frequency changing intelligent safety control system,
Steam•Care
revolutionise the household cleaning method, providing healthy, convenient, considerate health solutions to hundreds of millions of families in China.
  Steam•Care
product aims: Professional, Safe, Efficient, Energy Saving; Each product undergoes strict reliability lifetime test, to achieve "Zero Defects" quality goal and product management policy.
  Steam•Care
products already receive multiple world renowned certifications such as CNAS, IAF, CQC, ETL, GS, CE, PSE, RoHS
. With strong technological development and key high tech abilities, these products revolutionise the household cleaning care products.
Steam•Care
will give you a more healthy, comfort home.
We will continue to use "technological innovations" and "importance of quality" as management policies, keeping in mind "customers first", "high quality", "quality service", "reasonable price", "good reputation" to reward our existing plus new customers and partners, building creditable, professional, win-win, long-term strategic partners relationships together. We wholeheartedly welcome friends from all walks of life to visit our company, provide guidance, make discussions, and co-operate with us… we are willing go hand in hand with national and international partners to manage China's new generation independent brand, and make a more brilliant future together!